We thoroughly check each answer to a question to provide you with the most correct answers. Found a mistake? Tell us about it through the REPORT button at the bottom of the page. Ctrl+F (Cmd+F) will help you a lot when searching through such a large set of questions.
Molecular compounds are inorganic compounds that take the form of discrete molecules. Examples include such familiar substances as water (H2O)(H2O) and carbon dioxide (CO2)(CO2). These compounds are very different from ionic compounds like sodium chloride (NaCl)(NaCl). Ionic compounds are formed when metal atoms lose one or more of their electrons to nonmetal atoms. The resulting cations and anions are electrostatically attracted to each other.
So what holds the atoms of a molecule together? Rather than forming ions, the atoms of a molecule share their electrons in such a way that a bond forms between pairs of atoms. In a carbon dioxide molecule, there are two of these bonds, each occurring between the carbon atom and one of the two oxygen atoms.
Terms and Answers to learn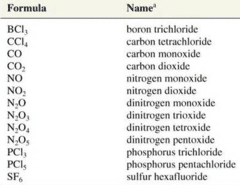 How are molecular compounds named?
~They're named the same way as you'd name ionic compounds. You need to add a prefix to the element names indicating the number of atoms in the formula.

What are the 4 first prefixes in naming molecular compounds?
~Mono-1
~Di-2
~Tri-3
~Tetra-4
suffix ending of molecular compounds
ide
vowels to drop in a molecular compound
o and a
vowel that cannot be dropped
i
binary molecular compound
two elements in a compound that are nonmetallic
covalent
nonmetal and nonmetal
Si3N4
trisilicon tetranitride
dinitrogen trisulfide
N2S3
nickel (III) carbonate
Ni2(CO3)3
Was this helpful?
Let us know if this was helpful. That's the only way we can improve.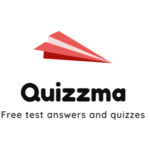 The Quizzma Team is a collective of experienced educators, subject matter experts, and content developers dedicated to providing accurate and high-quality educational resources. With a diverse range of expertise across various subjects, the team collaboratively reviews, creates, and publishes content to aid in learning and self-assessment.
Each piece of content undergoes a rigorous review process to ensure accuracy, relevance, and clarity. The Quizzma Team is committed to fostering a conducive learning environment for individuals and continually strives to provide reliable and valuable educational resources on a wide array of topics. Through collaborative effort and a shared passion for education, the Quizzma Team aims to contribute positively to the broader learning community.