We thoroughly check each answer to a question to provide you with the most correct answers. Found a mistake? Tell us about it through the REPORT button at the bottom of the page. Ctrl+F (Cmd+F) will help you a lot when searching through such a large set of questions.
Welcome to the study guide for the Introduction to the Risk Management Framework (RMF) course! This guide aims to provide you with an in-depth understanding of the RMF process as it applies to the Department of Defense (DOD).
Whether you're an information security professional, an IT manager, a DOD employee, or someone involved in the DOD Acquisition Process, this study guide is designed to be your roadmap for mastering the RMF course and exam.
Before you proceed, remember the following:
To receive credit for course completion, you must take the RMF exam (CS124.16) on STEPP.
A passing score of 75% is required to receive a certificate.
You may attempt the exam an unlimited number of times.
Save or print your certificate as CDSE does not keep a record of it.
Introduction to the Risk Management Framework Answers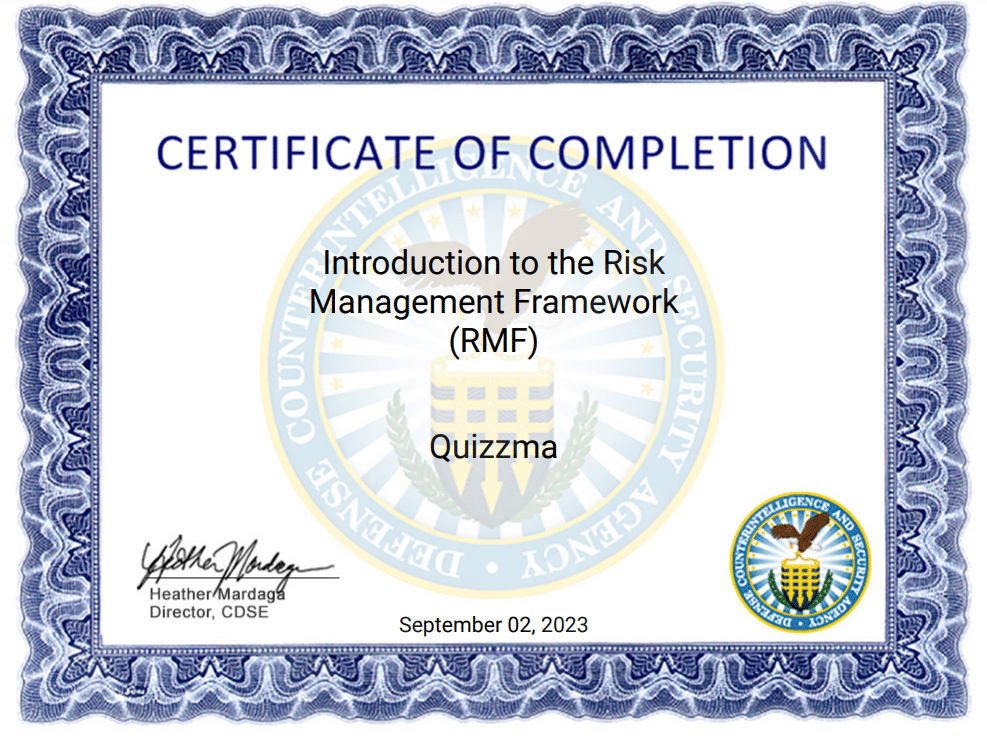 Knowledge Check 1: What Policy governs Cybersecurity?
Options:

NIST SP 800-37
DODI 8510.01
DODI 8500.01
CNSSI 1253

Correct Answer:
---
Knowledge Check 2: DOD participates in __________ and __________ as a vested stakeholder to create a more standardized approach to Cybersecurity.
Options:

Platform and Organization
TIER 1 and TIER 3
CNSS and NIST
RMF and NISPOM

Correct Answer:
---
Knowledge Check 3: What factors do organizations need to take into account when implementing a holistic approach to organizational risk management?
Options:

Supporting Information Systems
Relationships between mission/business process
Strategic Goals and Objectives
All of the above

Correct Answer:
---
Knowledge Check 4: PIT systems refer to:
Options:

Priority Information Technology
Proprietary Information Technology
Platform Information Technology
Process Information Technology

Correct Answer:

Platform Information Technology
---
Knowledge Check 5: What broad groups does DOD use to categorize information technology?
Options:

Information Systems
PIT
IT Services
IT Products

Correct Answers:

Information Systems
PIT
IT Services
IT Products
---
Knowledge Check 6: What is the last step in the RMF Process?
Options:

Prepare Step
Monitor Step
Categorize Step
Assess Step

Correct Answer:
---
Knowledge Check 7: To which step do the following tasks belong: Information Types, System Registration, Asset Identification, System Stakeholders?
Options:

Assess Step
Authorize Step
Implement Step
Prepare Step

Correct Answer:
---
Knowledge Check 8: In what Step does the system disposal strategy get developed and implemented as needed?
Options:

Assess Step
Prepare Step
Monitor Step
Implement Step

Correct Answer:
RMF Final Exam Answers
Question
Answer
The RMF is designed to be complementary to and supportive of DOD's acquisition management system activities, milestones, and phases.
True
Which of these tasks belong to the Risk Management Framework (RMF) Assess step?
System Description
Remediation Actions
Control Assessments
Plan of Action and Milestones
Remediation Actions
Control Assessments
Plan of Action and Milestones
Threats to requirements development, procurements, and Test and Evaluation (T&E) processes should be designated consistent with the most severe risk.
True
The purpose of the RMF Prepare step is to
The purpose of the RMF Prepare step is to carry out essential activities at the organization, mission and business process, and information system levels of the organization to help prepare the organization to manage its security and privacy risks using the Risk Management Framework.
RMF activities should be initiated as early as possible in the
DOD acquisition process to increase security and decrease cost. True or false?
True
Risk Management Framework Tier 1 Organization roles and responsibilities are assigned to which of the following? Control Provider (CP) DOD Cybersecurity Architecture DOD Senior Information Security Officer (SISO) Authorizing Officials (AO)
DOD Cybersecurity Architecture and DOD Senior Information Security Officer (SISO)
DOD Information Technology refers to all DOD-owned Information Technology (IT) or DOD-controlled IT that __ DOD information.
Receives
Processes
Stores
Transmits
Receives
Processes
Stores
Transmits
Under the RMF, technical and non-technical features of DOD Information systems are
comprehensively evaluated in the intended environment. True or false?
True
The DOD uses which broad groups to categorize the information technology?

Information Systems
PIT
IT Services
IT Products
The purpose of the Authorize step is to provide organizational accountability by requiring a senior management official to determine if the security and privacy risk (including supply chain risk) to organizational operations and assets, individuals, other organizations, or the Nation based on the operation of a system or the use of common controls, is acceptable.
True or false?
True
What is RMF?
RMF (Risk Management Framework) is a systematic process that ensures the effective management of risks related to the use, operation, and adoption of IT systems. Originating from the National Institute of Standards and Technology (NIST), RMF was adopted by the Department of Defense (DOD) to manage risks to its IT systems and data.
The framework involves a series of structured steps to certify and accredit IT systems to ensure they meet security standards before they go live.
Why is RMF Important for DOD?
National Security: The DOD is responsible for safeguarding national security, which heavily relies on secure and robust IT systems.
Data Integrity: RMF ensures that data is not tampered with and remains reliable, which is crucial for operational decisions.
Compliance: It helps in maintaining compliance with federal regulations and standards.
Risk Mitigation: It enables DOD to identify and mitigate potential vulnerabilities before they can be exploited, thereby reducing the overall security risk.
Resource Allocation: By prioritizing risks, the DOD can allocate resources more effectively.
Accountability: RMF provides a clear protocol for security roles and responsibilities, enhancing accountability.
Key Terms and Definitions
Authorization: The official management decision to operate an IT system based on the security package, mission requirements, and risk to operational needs.
Categorization: The process of defining what kind of data is being handled and what level of security is needed.
Controls: Security measures to manage or mitigate risk to an IT system.
Assessment: The testing and evaluation of security controls to ensure they are effective.
Accreditation: The official acceptance of the risk and the formal agreement to proceed with the operation of the IT system.
Continuous Monitoring: Ongoing oversight to ensure that security controls remain effective.
STEPS: The Strategic, Technical, Economic, Political, and Schedule considerations that impact decision-making in the RMF process.
By understanding these basic components, you're laying the groundwork for more advanced topics in the RMF process. Stay tuned for further sections where we'll delve deeper into each step and its application within the DOD.
RMF and DOD Acquisition Process
The Risk Management Framework (RMF) and the Department of Defense (DOD) Acquisition Process are closely related, both designed to ensure that IT systems are secure, compliant, and fit for purpose.
The DOD Acquisition Process is responsible for procuring all material goods and services for the DOD, including IT systems. The RMF, on the other hand, ensures that these IT systems are secure. Here's how they intersect:
Early Involvement: RMF comes into play as early as the planning and requirements phase in the Acquisition Process to evaluate potential security risks.
Requirements Setting: RMF informs the setting of security requirements that the new acquisitions must meet, making it an integral part of the RFP (Request for Proposal) process.
Vendor Assessment: RMF is used to assess the security postures of potential vendors, thereby influencing the contract awards.
Integration: During the development and fielding stages of the DOD Acquisition Process, RMF works alongside to ensure that all security controls are in place and functional.
RMF Milestones in the Acquisition Lifecycle
Pre-RFP Phase: Security categorization of the system and preliminary risk assessment.
RFP & Contract Award: Include RMF requirements and timelines as deliverables in contractual documents.
Development Phase: Implementing the selected security controls and documenting them.
Testing Phase: Assessing the controls to ensure they meet all the necessary security requirements.
Deployment: Authorization to operate is granted only after a thorough RMF assessment.
Operations & Maintenance: Continuous monitoring and periodic re-authorization occur, aligned with any acquisition-related updates or upgrades.
Best Practices
Early Collaboration: Involve security teams early in the acquisition process to ensure RMF requirements are met from the get-go.
Documentation: Maintain robust documentation throughout both processes to ensure compliance and to ease the re-authorization stages.
Continuous Monitoring: Keep abreast of changes in both the RMF guidelines and the Acquisition regulations and requirements to ensure ongoing compliance.
Training: Make sure everyone involved in both RMF and the Acquisition process is adequately trained and aware of their responsibilities.
Stakeholder Engagement: Regularly update all stakeholders on the progress of the acquisition and RMF processes, ensuring everyone is aligned on goals and risks.
Exam Preparation
Sample Questions
What are the seven steps in the RMF process?
How does RMF relate to the DOD Acquisition Process?
What is the purpose of continuous monitoring in the RMF process?
Explain the term 'Authorization to Operate' (ATO) in the context of RMF.
What is the significance of security categorization in RMF?
Describe a scenario where RMF would interact with the DOD Acquisition lifecycle.
What are some common vulnerabilities that RMF aims to address?
Explain the difference between security controls and security policies.
How do you determine the impact level of a security control in RMF?
What is the role of the Authorizing Official (AO) in the RMF process?
Study Tips
Understand the Framework: Get a solid grasp of the seven-step RMF process and how it fits into the DOD ecosystem.
Review Key Terms: Make flashcards or use other memory aids for key terms and definitions.
Apply Real-world Scenarios: Try to understand how RMF is applied in real-world cases, especially within the DOD.
Regular Revision: Consistent review of the material will help reinforce your understanding and retention.
Practice Tests: Take as many practice exams as you can find. This will help you get accustomed to the exam format and improve your confidence.
Group Study: Consider studying with peers to challenge your understanding and fill in any gaps in knowledge.
Time Management: Practice answering questions under exam conditions to improve your speed and accuracy.
Resources for Further Reading
NIST Special Publication 800-37: The bible for RMF, this document outlines the framework in extensive detail.
DOD Instruction 8510.01: This instruction outlines how RMF is to be used within the DOD.
CS124.16 Course Material: This is the core material for the exam and should be your primary reference.
Online Forums: Websites and forums such as Reddit and StackExchange often have useful discussions and resources shared by other RMF professionals.
Webinars and Online Courses: Several organizations and educational platforms offer in-depth courses and webinars that cover the RMF process comprehensively.
Student Guide: Papers on information security and risk management often include case studies and scenarios where RMF has been applied, offering valuable insights.
Was this helpful?
Let us know if this was helpful. That's the only way we can improve.