We thoroughly check each answer to a question to provide you with the most correct answers. Found a mistake? Tell us about it through the REPORT button at the bottom of the page. Ctrl+F (Cmd+F) will help you a lot when searching through such a large set of questions.
A car drives over the top of a hill that has a radius of 50 m. What maximum speed can the car have without flying off the road at the top of the hill?
Answer: v = 22.147 m/s
Explanation
r = 50 m
The forces acting on the car are the normal reaction of the ground and the force of gravity.
According to Newton's second law, we have:
F = ma
F = N -Fg
N = mg
Fg = mg
The maximum speed will be the speed at which the car barely touches the surface, so the force of the normal reaction of the ground can be neglected: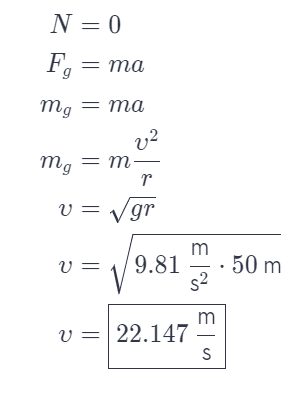 Was this helpful?
Let us know if this was helpful. That's the only way we can improve.