We thoroughly check each answer to a question to provide you with the most correct answers. Found a mistake? Tell us about it through the REPORT button at the bottom of the page. Ctrl+F (Cmd+F) will help you a lot when searching through such a large set of questions.
A 1130-kg car is held in place by a light cable on a very smooth (frictionless) ramp. The cable makes an angle of
31.0°C  above the surface of the ramp, and the ramp itself rises at  25.0°C above the horizontal.
(a) Draw a free-body diagram for the car.
(b) Find the tension in the cable.
(c) How hard does the surface of the ramp push on the car?
Answer
A)
Choose x- and y-coordinates that are parallel and perpendicular to the ramp, respectively. Our sketch of the free-body diagram for the car and the chosen coordinate axes, is shown in the figure below. As we see, we have expressed the x- and y-components (in red) of the vertical weight w of the car and the tension T in the cable (in blue).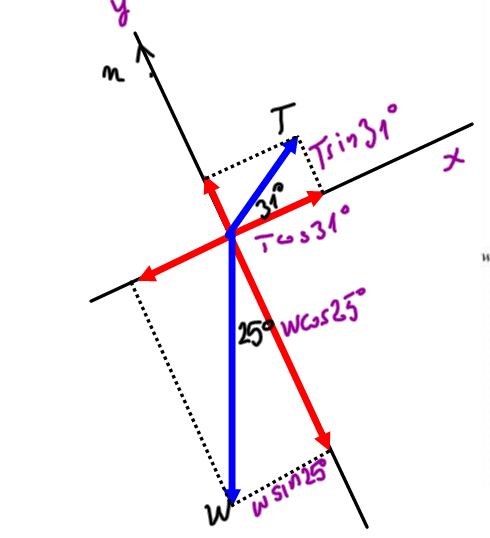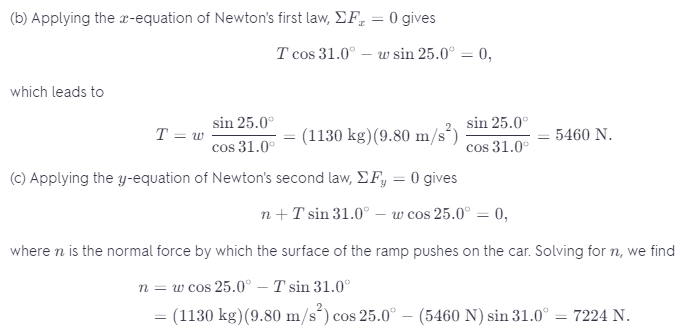 Result
A) Our choice of coordinate axes is made by talking the x-axis parallel to the ramp and the y-axis perpendicular to it. All the forces acting on the car are identified and decomposed along the established coordinate axes.
B) 5460 N.
C) 7224 N.
Was this helpful?
Let us know if this was helpful. That's the only way we can improve.