We thoroughly check each answer to a question to provide you with the most correct answers. Found a mistake? Let us know about it through the REPORT button at the bottom of the page.
Test the hypothesis using the​ P-value approach. Be sure to verify the requirements of the test.
H0: p=0.88 versus H1: p≠0.88, n=500, x=430, α=0.05 Is  np_0(1-p_0))≥10​?
Select the correct choice below and fill in the answer box to complete your choice.
Answer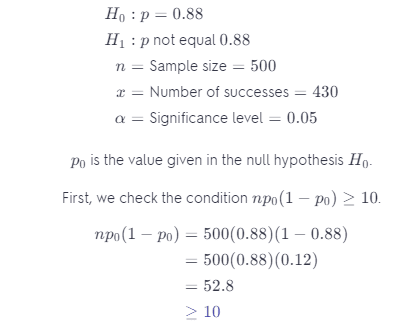 The sample proportion is the number of successes divided by the sample size:
Was this helpful?
Let us know if this was helpful. That's the only way we can improve.