We thoroughly check each answer to a question to provide you with the most correct answers. Found a mistake? Tell us about it through the REPORT button at the bottom of the page. Ctrl+F (Cmd+F) will help you a lot when searching through such a large set of questions.
Δυγνη, Diagoras
Δυγνη, Hero of Minos
Δυγνη, Hero of Lesbos
Δυγνη, Nisuth, Treasures, Sake, Heritage
Δυγνη, Marathon, Plain
Δυγνη, Temenos, River, Plain
Δυγνη, Tithonus
Greek Gods And Goddesses Names, Symbols, and Realms
Zeus
Roman Name: Jupiter or Jove
Symbols: Eagle, oak, thunderbolt
Realm: king of the gods, ruler of mankind.
Poseidon
Roman Name: Neptune
Symbols: dolphin, horses, trident
Realm: god of the sea, horses and earthquakes.
Hades
Roman Name: Pluto or Dis
Symbols: Cerberus, cypress tree, bident, helmet of invisibility.
Realm: god of the underworld, king of the dead.
Hera
Roman Name: Juno
Symbols: pomegranate, peacock, diadem.
Realm: queen of the gods, marriage and childbirth.
Hestia
Roman Name: Vesta
Symbols: Hearth, fire and home
Realms: goddess of home and hearth.
Ares
Roman Name: Mars
Symbols: vulture, attack dogs
Realm: god of war
Athena
Roman Name: Minerva, Pallas Athena
Symbols: Aegis, owl, olive tree
Realm: wisdom, Warcraft, weaving
Apollo
Roman Name: Apollo, Phoebus Apollo
Symbols: Sun chariot, bow and arrows.
Realm: god of truth, poetry and medicine.
Aphrodite
Roman Name: Venus
Symbol: Dove and sparrows
Realm: goddess of love and beauty
Hermes
Roman Name: Mercury
Symbols: Caduceus, winged sandals and helmet.
Realm: messenger of the gods, thieves and commerce.
Artemis
Roman Name: Diana
Symbols: Stag, bow and arrow
Realm: goddess of the hunt
Hephaestus
Roman Name: Vulcan
Symbol: Fire, forge, hammer and anvil
Realm: god of workers and metal, blacksmith of the gods
Dionysus
Roman Name: Bacchus
Symbols: Grapevine, tiger and lions
Realm: god of wine and revelry
Pan
Roman Name: Pan (half man, half goat [satyr])
Symbols: Pipes and wilderness.
Realm: god of nature and wild things
Eros
Roman Name: Cupid
Symbols: bow and arrows, arrow through the heart
Realm: god of romantic love
Persephone
Roman Name: Proserpina/Proserpine
Symbols: Flowers, pomegranate
Realm: queen of the underworld and springtime
Demeter
Roman Name: Ceres
Symbols: agriculture and wheat, cornucopia
Realm: goddess of agriculture and nature
Greek God Symbols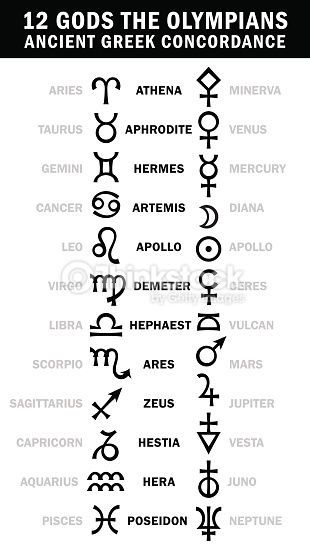 Zeus
Eagle, Lightning Bolt, Oak Tree
Poseidon
Trident, Horse, Dolphin
Apollo
Lyre, Laurel Wreath, Bow
Hermes
Caduceus, Tortoise, Rooster, Winged Hat and Sandals
Ares
Bronze Armor & Spear
Hephaestus
Anvil, Hammer, Metal Tongs

Dionysus
Thyrsus, Grape
Hera
Peacock, Cow, Diadem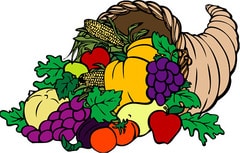 Demeter
Grain, Cornucopia
Aphrodite
Rose, Swan, Shell, Mirror

Athena
Owl, Olive Branch, Nike
Artemis
Deer, Silver Bow & Arrows, Moon
Hestia
Sacred Fire, Fireplace, Cauldron
Hades
Bident, Charon, Cerberus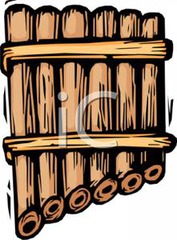 Pan
Panpipe
Moirai
Spinning Equipment
—— Major Gods and Goddesses (The Olympians) ——
List from Quora
Hestia — fire, hearth, home, family
Demeter — sickle/scythe, wheat, planty planty planty…
Hera — peacock, family, marriage, cows, Queen of Olympus, wife of Zeus
Hades — death, bident, Helm of Invisibilty
Poseidon — trident, horses, oceans and waters, sealife
Zeus — eagle, thunderbolt, rain, Aegis, Ruler of Olympus, husband of Hera
Athena — owl, rooster, Aegis, shield and spear, Nike (Athena Parthenos), sometimes a snake, crafting, weaving, wisdom and war
Hephaestus — hammer, forge, donkey (it's an ass!), fire, technology, blacksmiths and craftsmen
Ares — bloodthirsty battle, war, boar
Aphrodite — beauty, passion, love, dove
Artemis — bow and arrow, stag, the moon, the Hunt, stars, protector of girls and maidens, virgin
Apollo — bow and arrow, songs, poetry and music, the sun, the lyre, prophecy, snake
Dionysus — grapes, insanity, satyrs…dolphins?…
Hermes — travellers, roads, caducues, packages, messenger
—— Minor Gods and Goddesses ——
Thanatos — death, stray souls
Eros — passionate love, bow and arrows
Kymopoleia — destructive storms and oceans, terror
Khione — snow and blizzards
The Boreads — ice, cold winds, flight
Boreas — god of the North Wind, ice and snow, coldness
Gaia/Gaea — Earth mother, fruits
Chaos — "Nothingness:
Ouranos — Father sky, rain and winds, storms
Tartarus — Eternal abyss of darkness, banished souls and monsters
Nyx — the night, crescent moon
Hypnos — sleep, dreams
Erebos/Erebus — darkness
Hecate — magic, sorcery, torches, crossroads
Hebe — youth
Palaemon — sharks, harbours, saviour of shipwrecks, dolphins
Aeolus — winds
Pan — nature, satyrs, the Wild
Iris — rainbows, messenger, harpies
Nike — victory, laurels
Nemesis — revenge, backstabbing
Zephyros — gentle winds, god of the West Wind
Was this helpful?
Let us know if this was helpful. That's the only way we can improve.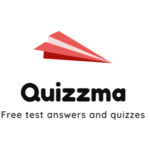 The Quizzma Team is a collective of experienced educators, subject matter experts, and content developers dedicated to providing accurate and high-quality educational resources. With a diverse range of expertise across various subjects, the team collaboratively reviews, creates, and publishes content to aid in learning and self-assessment.
Each piece of content undergoes a rigorous review process to ensure accuracy, relevance, and clarity. The Quizzma Team is committed to fostering a conducive learning environment for individuals and continually strives to provide reliable and valuable educational resources on a wide array of topics. Through collaborative effort and a shared passion for education, the Quizzma Team aims to contribute positively to the broader learning community.